Chinese consumers in North America retain lots of their consumer values as well as media usage habits after they immigrated. They still mostly use their familiar Chinese websites, mobile apps, and video streaming sites instead of the mainstream platforms. When it comes to entertainment, Chinese publishers do a very good job in offering great content with plenty of choices. This explains why Chinese immigrants could stick with these Chinese platforms even after they have settled in North America for years.
In this article, we are going to talk about the hottest Chinese video streaming platforms not only popular inside China but are also magnets to Chinese audience in North America.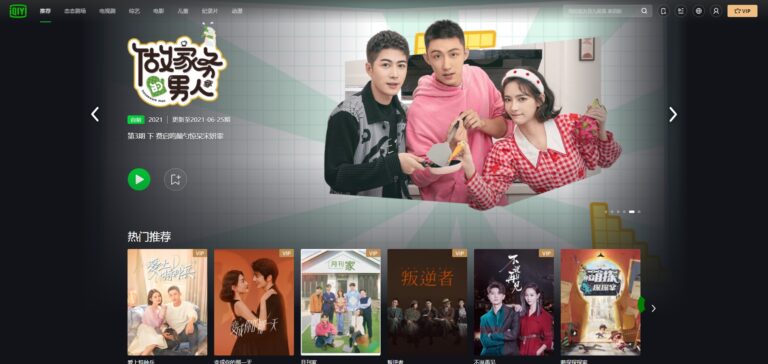 China's 3 tech giants and their most popular video streaming platforms
Baidu, Alibaba and Tencent, known as the BATs (often compared to the FANG stocks in the U.S.), are three of China's most prominent technology firms. The BAT companies are estimated to control over 70% of the internet business and transactions in China directly or indirectly. Thanks to the Great Firewall policy, China has developed a huge, isolated Internet industry. YouTube and many other Western video platforms have been unavailable in China since 2009, the ban has created room for domestic video platforms to step in and entertain consumers and have been expanding quickly in the past decade. And the 3 giants of the BAT are of course the biggest players in the online entertainment ecosystem.
According to Statista 2021, the leading online video platforms in China based on monthly unique users are: iQiYi.com (owned by Baidu, the search engine giant), qq.com (owned by Tencent, the gaming giant who also owns WeChat) and Youku.com (owned by Alibaba, the e-commerce giant).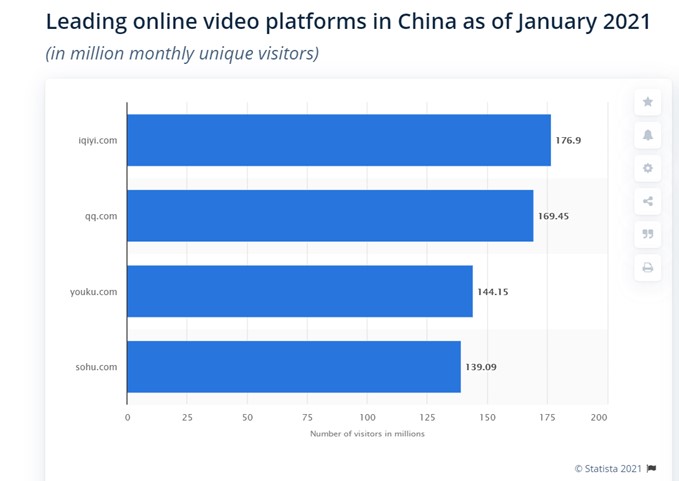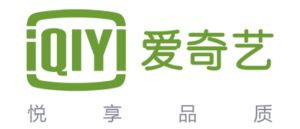 Launched by Baidu in September 2010, iQiyi is China's most popular video platform. It is also loved by Chinese audiences worldwide.
Described as China's Netflix, iQIYI provides highly popular original content, user generated content, partner-generated content, live sports, and fully licensed media. In 2017, Netflix signed a licensing deal with iQiyi, under which some Netflix original productions would be available on the Chinese platform. It also acquired the rights to many South Korean films and partnered with Japan's Fuji TV to produce online dramas.
Reality shows are viewers' favorite in China. One of the most popular programmes currently on iQiyi is Mr. Housework, a reality show which captures all the fun, awkward, and insightful moments of men doing housework while discussing social relationships, interactions, and responsibilities, among other everyday wisdom.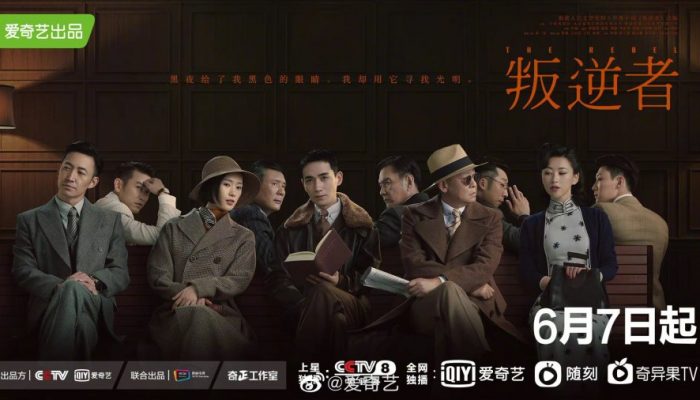 iQiyi also offers lots of great choices of drama. The Rebel, a latest released spy war drama with story background of Shanghai back in 1936, co-produced with CCTV has been ranked the top searched drama on Baidu's chart.
In the United States, iQIYI ranks as the 4th most visited Chinese website with 531,000 unique monthly users.

In Canada, iQIYI is the 5th most visited Chinese website with 207,000 unique monthly users.
#2 – QQ.com / Tencent Video

Tencent launched Tencent Video in April 2011 as an expansion of its live video streaming platform Tencent QQLive.
In addition to letting users upload videos, Tencent developed original content and secured distribution partnerships with six British content providers — BBC Worldwide, ITV Studios, Fremantle Media, All3Media International, and Endemol UK — to become the largest provider of British video content in China. It also secured HBO shows and NBA games for its viewers. Westerners will be familiar with BBC's documentary Blue Planet— the UK's most watched TV programme of 2017— which Tencent Video co-produced.
Tencent users can enjoy a wide variety of content including TV shows, sports, news, drama, and movies. The latest released Ancient Love Poetry, lead by the highly anticipated Zhou Dong Yu and a historical romance drama adapted from a novel, has created a big hit on the platform.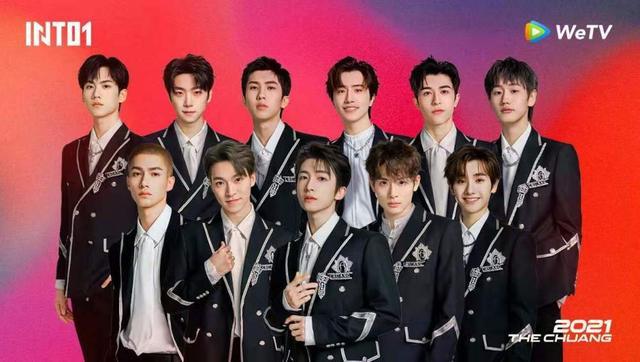 Another viral production by Tencent, the Produce Camp 2021 was a Chinese boy group survival show and is the fourth season of the Chinese edition of the Korean original show Produce 101. A global audition was held and had gathered 90 trainees who accepted several challenges to fight a spot in the newest boyband in mainland China. The final 11 competitors formed an international boy group called INTO1 in the finale streamed live on April 24.
In the United States, QQ is the most popular Chinese website with over 1.08 million unique monthly users.

In Canada, it is the 2nd most visited Chinese website with 520,000 unique monthly users.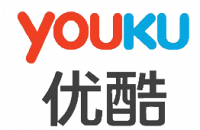 Streaming video sites Youku and Tudou merged in 2012 to become the larger Youku Tudou, which was then acquired by Alibaba in late 2015. Youku Tudou grew rapidly under Alibaba and become the 3rd most popular video site in China.
Often referred to as the YouTube of China, YouKu originally hosted user-generated content, but has since shifted towards professionally produced videos licensed from its content partners. It now functions analogously closer to Hulu or Netflix.
Falling Into Your Smile is one of the most popular romance TV drama currently aired on YouKu, attracting lots of young viewers. Another big hit Ni Chang is YouKu's own production of historical romance series set in the Ning dynasty. It also collaborates with Hong Kong TVB to exclusively premier some of the Hong Kong dramas like the latest popular Murder Diary. So, it is also the go to platforms for lots of fans of Hong Kong dramas.
Unlike Tencent and Baidu's video platforms, which were extended from their core ecosystems, Youku Tudou is not as heavily connected to Alibaba's core e-commerce platforms.
In the United States, YouKu is the 3rd most visited Chinese website with 676,000 unique monthly users.

In Canada, YouKu is the 4th most visited Chinese website with 292,000 monthly users.
And the new rival – Mango TV

Other than the 3 giants in the video streaming war, there are other smaller players also shaping the ever-changing market. One of them is Mango TV.
Established in 2006, Mango TV is more than just an internet video-streaming site. It has become the video platform branding title of Hunan Television since 2008, currently China's most popular provincial satellite TV station and the second-most-watched channel. The partnership has granted Mango TV the exclusive copyright to the productions from Hunan Television, many of which were an instant hit when first aired, such as I Am A Singer and Where Are We Going, Dad a few years back.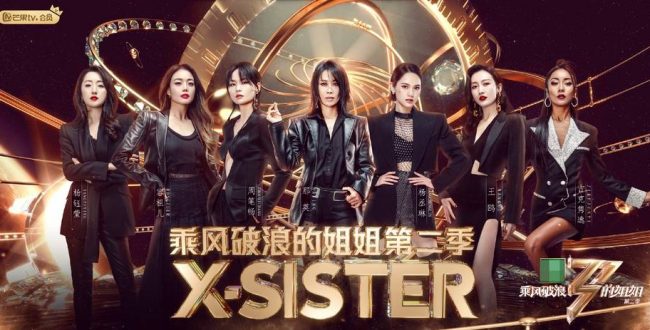 In the summer of 2020, Mango TV produced The Sisters Who Make Waves, a talent show which featured 30 female celebrities over 30 years old who must compete to debut in a seven-member girl group. The show created big resonance from the Gen-X career women and emerged as an Internet sensation, generated over 5 billion views. Working women, and even some men, say they can relate to the "Sisters" because the showbiz hierarchy to an extent mirrors office culture. Season 2 of the show was launched January 2021 and is still a big talk of the town.
In the United States, Mango TV has not yet made official site rankings.

In Canada, it ranks as the 15th most popular Chinese website with 78,000 unique monthly users and is growing quickly.
Reach Chinese consumers in North America through these popular streaming platforms
Chinese newcomers in the United States and Canada can spend up to 19 hours per week watching video content on Chinese streaming platforms, making these sites great touch points to reach the Chinese consumer's market. However, these sites are disconnected from the open auction due to China's internet policies, so their ad inventories cannot be reached through Google Display Network or North American DSP's.
Eastward Media helps advertisers target audiences on these Chinese video streaming platforms through in-language pre-roll video ad campaigns.
Our managed programmatic solution uses first party audience data from leading DMPs like Baidu, Alibaba and Tencent for targeting the right audience.
Interested in learning more? Connect with us today.