The Covid-19 pandemic has had a devastating impact overall on tourism worldwide and that has affected businesses such as retailers, restaurants and hotels that each year rely on the industry for their survival. But as the number of new cases are under better control in many countries with the speeding up of the vaccination process, the travel industry is entering the recovery stage with different paces.
Recovering from the Pandemic
Although the recovery will differ country by country, we do see one thing in common: people still want to travel. For the past over a year, people have had to cancel travel plans, rebook flights and push their vacations out again and again. Now, with the light at the end of the tunnel, all that is beginning to change. The prolong staying home and not traveling has just made us even hungrier than ever for new destinations and new experiences. And we are very likely to spend more to make up for what we have missed. Many are calling this "revenge travel"
With tight restrictions of international travel still in place for most countries and that the risk of transmitting Covid-19 through air travel is still a big concern, international travel for touristry purpose is not very likely to have a significant rebound within this year.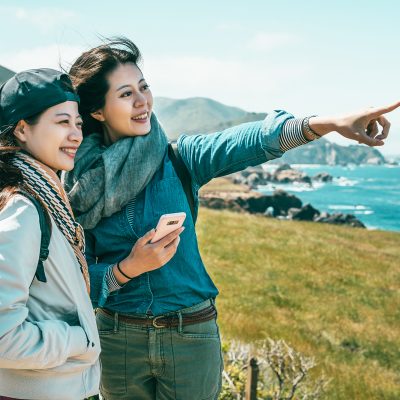 The first wave ahead of us is domestic travel
In North America, the U.S.-Canada border has remained closed to non-essential travel. Canada's Prime Minister Justin Trudeau said on May 18, that the southern border with the U.S. may reopen once three quarters of Canadians are vaccinated. However, it is optimistic that non-essential travel within our own provinces or states and then countries will be lifted bit by bit soon this summer.
Travellers in North America are looking into their own backyards and realizing how incredible the travel possibilities are within the borders. National Parks have always been a beautiful natural resource that draws travellers and nature lovers alike, but in the coming months they will be more popular than ever. And there is no end to the variety of landscapes you can explore right here in Canada and the United States, from east to west.
After the initial wave of domestic travel, we will see the U.S.-Canada border completely opened. There will be then the bloom of exchange in tourists between the United States and Canada. Our favourite international destinations will start to open up next, possibly end of this year, as well. Europe is poised to welcome back travellers in droves as soon as a "vaccination passport" can be created.
To capture early demand of "revenge travel", travel-industry players should act now to promote their products and services to the hungry travellers. And the 6.8 million Chinese Consumers in North America who make up a $161 billion total annual spending power should not be overlooked.
Understanding Chinese consumers' behavior in travel
Chinese consumers have always loved travelling and represent a strong spending power!
China has been in leading position in the global tourism market since 2012 with outbound tourists spending almost 277 billion U.S. dollars in 2018, around one fifth of the world's total spending on tourism.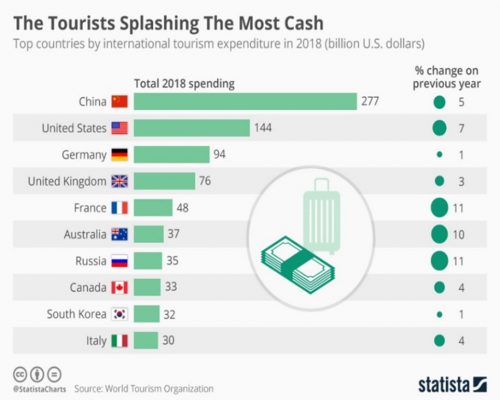 In the past few years, Chinese travelers have turned more towards enjoying niche sectors like whisky tasting, aurora chasing, outdoor activities and other high-quality and less mass-oriented products and experiences. (Statista 2019)
Chinese immigrants to North America can be perceived as 'transplanted consumers', they are more likely to retain the same consumer values before they are completely acculturated, so their attitude over travel will be very similar after they move to North America.
With tight restrictions of international travel still in place, the Chinese consumers in North America, who have the money to spend and are hungry for international travel, will move to the options of domestic travel, creating big demand in this sector.
As we all know, China was the first country to be hit by the Covid-19 pandemic, it was also the first to emerge from it. So, they already went through the recovery stage in the summer of 2020.
The ITB China Travel Trends Report – 2020 China Market Recovery Special Edition was conducted last May in China at their recovery stage of the pandemic. The report was based on responses from a group of outbound travel agencies, tour companies, as well as interviews with several industry experts, aiming to update travel suppliers and consumers with the latest needs of the Chinese travel market.
According to the survey, over 90% of the participants responded that travel is still one of the preferred leisure activities among Chinese consumers.
Since social distancing has become the new normal, Chinese travelers will avoid crowded attractions. The demand for natural landscape and customized travel will continue to increase in the post-Covid-19 era.
Self-driving tour and free independent travel were expected to be the most preferred travel format at the time according to the response of the surveyed travel companies.

The Survey on COVID-19 travel sentiment 2020 was published by McKinsey & Company around the same time. We have highlighted some of their findings about the Chinese Consumers' attitude towards travelling during the pandemic recovery below:
Domestic, even regional – travelers prefer to stay close to home—choosing, for example, to drive or take trains to regional destinations. Flying for leisure trips has recovered more slowly.
Younger travelers first- the young and single segment are more open to resuming travel in the first wave after the crisis.
Outdoor, foodie, and family – travelers prefer to avoid crowded tourist spots. Outdoor scenic attractions are the most popular destinations for future travel. Food and family-themed destinations also remain popular.
Self-guided and self-driven tours become dominant – group and guided-tour packages have dramatically declined in popularity. This is a fundamental shift. Chinese travelers have long been fans of guided group tours, which offer convenience and ease of travel, especially abroad. But consumers now appear to be balancing these virtues against concerns for their safety in larger groups.
Engaging customers through latest social media – WeChat and Weibo are no longer emerging channels but rather "must haves" for travel businesses. Leading travel players are paying more effort to engage customers through their favorite and most visited online or social media channels.
Reaching Chinese hungry travellers in North America
By learning from China's travel restart, we have the suggestions for the tourism industry players (including, but not limited to, hotels/resorts, airlines, tourism boards, tourist spots, travel agencies, travel insurance or other travel related products) in North America:
Grab this timing of post pandemic recovery, create impactful online presence of your brand or products in front of the Chinese audience in North America. Be ahead of your competitors to be top-of-mind for these potential consumers.

Reach them through their favorite Chinese website, mobile app and streaming platforms, target them with interest and browsing history of travel related content. Chinese consumers in North America can spend up to 85% of their online time consuming content on China-based websites and streaming platforms like Baidu, QQ, Youku, iQiyi … etc.

Leverage Chinese Social Media content marketing strategy on WeChat and Weibo to present important values and detailed information of your travel offerings in their largest online communities.
Case study – Tourism Arizona
Tourism Arizona has taken the lead in starting a programmatic display ad campaign to promote their destinations to the Chinese audience in the United States early this year. The campaign has created an impactful awareness to the Chinese consumers who are ready to proceed with their travel plans when the restrictions are lifted.
Tourism Utah has also started a similar campaign in June, covering Chinese not only in the United States but also in parts of Canada in their target audiences. They wanted to seize this timing to also win the attention of Chinese in Canada so that they will think of going to Utah for all those beautiful Canyons once the border is opened.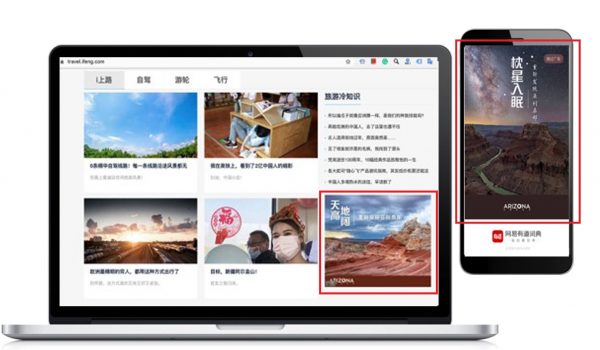 Both campaigns were done through Eastward Media's unique managed programmatic direct ad platform, reaching the Chinese cultural market which is hardly reached by general open exchange network.
To find out how that could be done for your brand or business and more about Chinese consumers in North America, email us today at info@eastwardmedia.com
Interested in learning more? Connect with us today.