Want to reach Chinese audiences in Canada? Here's some key information about the audience segment.
Canada is home to 1.7 million Chinese, who have either settled in their own generation or in past generations. Chinese Newcomers – people from China who have (typically) less than five years residence in Canada – are net-new consumers for North American brands and retailers. Chinese Newcomers is the target audience that is more frequently appearing on annual briefs.

This update provides insights into the audience size and media habits of Chinese Newcomers for media planners and brand marketers in Canada. For references, citations and original data set, contact info[at]eastwardmedia.com.
General Characteristics of Chinese Newcomers in Canada
Average Age: 31.5
Gender Distribution: Est. 55% Female / 45% Male
Dominant Language: Mandarin Chinese (spoken), Simplified Chinese (written)
Other languages: English, regional Chinese dialects, French
Income & Education:

Generally affluent and well-educated. More than 60% are economic-class migrants possessing in-demand skills or high educational attainment, 30% are family-class migrants joining spouses and immediate family members living in Canada.

Media Habits:

Digital Natives – strong preference to receive news and entertainment content through online or social channels.
Strongly retain Chinese media habits in their first five years of residence, preferring to access Chinese digital and social content most of the time. This poses a significant challenge to media agencies, since general market digital channels (Facebook, Google, North American DSPs) are weak in their reach and engagement of Chinese Newcomers in Canada.

Attitudes towards Advertising

Positive towards in-language (Chinese) advertising
Generally more trusting of advertiser messages
Perceives advertising as informative

Consumer Propensities:

Greatest consumer needs in their first five years of residence for products and services, over-indexing in the following verticals: Banking & Financial Products, Automotive, Luxury Goods, Real Estate, Appliances, Electronics, Health Supplements, Pharmaceutical

Geographic Markets:

Metro Vancouver and the Greater Toronto Area absorb 70% of the Chinese population, but markets like Calgary, Montreal and Edmonton are seeing statistically significant annual growth of their Chinese populations.
In Metro Vancouver, the Chinese population is expected to grow by 80% by 2031.
Breaking Down the Numbers
Canadian Citizens, Place of Birth – China: 752,650 (2016 Census)
New Permanent Residents from China: Est. 30,000 / Year
Active International Students from China 140,530 (2017)
Temporary Resident Visa Holders: 546,681 / Year
Tourists from China: 737,000 / Year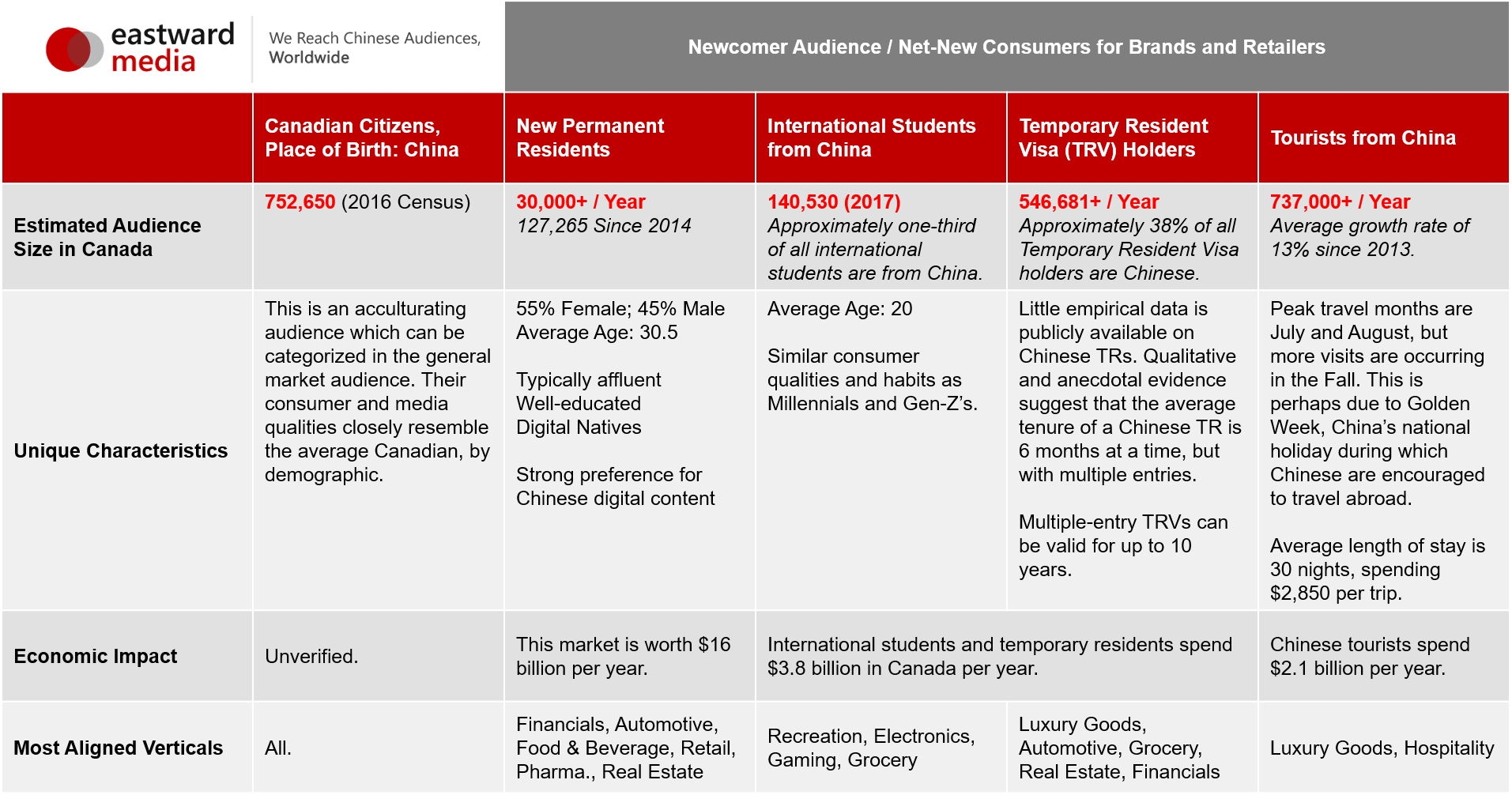 Reach Chinese Audiences in Canada with Eastward Media
Eastward Media specializes in helping media agencies and brand marketers reach Chinese audiences in Canada. Our managed programmatic direct solutions come in display and video formats.
To learn more about Eastward Media, contact our Vancouver or Toronto offices.